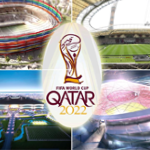 Yes, it's still over 3 years away—but that hasn't stopped the 2022 Qatar World Cup from being a huge talking point already. If you're wondering what it's going to be like waving your World Flag in the Gulf desert, so are we frankly! Ever since FIFA's 2010 announcement that the desert state will host the 22nd world cup, fans have been asking all kinds of questions. Where can I get a cold beer? What will a winter World Cup be like? Do I need a visa? And...who's going to win?
Read on to find out why the 2022 World Cup in Qatar is going to be almost completely different from this year's Moscow event...Or any other you've ever been part of.
It's going to be very, very hot.
It's well known that Gulf States experience truly baking temperatures, that's not news. But did you know that the highest ever temperature in Doha was just over a whopping 50 degrees Celsius? The lowest recorded in Qatar, by the way, is 1.5 degrees—so the first thing we can conclude is that we probably won't be re-using anything bought for Moscow. It's why a winter event was the only practical option for football's next global event. But what does it mean for everyone involved?
Well, us fans in the stadiums will likely be waving our national hand flags in something closer to 20-24 Celcius outdoors during the November to December matches. Still hot by UK and European standards. Dehydration, heat stroke, and sunburn are all concerns for anyone planning to drape themselves in the Union Jack at the recently completed, £70M Khalifa International Stadium. It's some relief that Khalifa will be air-conditioned, but whether this will be enough for the players during 90 minutes of physical effort is still debatable. It means we'll all need to drink a lot of water. But is that all we'll be drinking?
Can we drink alcohol at the Qatar World Cup?
Perhaps the next biggest (or the most pressing) concern for UK fans is the question of Qatar's stance on alcohol. European fans are, on the whole, accustomed to celebrating with booze. Bars and pubs bedecked with world table flags and giant national flags are common this side of the Mediterranean, but alcohol barely features at all in Qatari culture.
In fact, public drinking and intoxication are banned in Qatar. Football fans may need to travel up to an hour for a pre or post-match drink, the media believe. FIFA, on the other hand, is still on the fence as to whether spectators will be allowed to consume alcohol in stadiums. What we do know, is that hotels serve alcohol, but apart from this, we'll have to wait and see on this one!
What will the World Cup itself be like?
If you're already keen as mustard to get your world flags, you'll definitely want to know what the fixtures and timings will be like for the 2022 matches. FIFA has announced that the first tournament kick-off will be at Lusail Stadium on November 21st, and last 28 days. If you're a Premier or European League fan too, you're going to have to wait until 2021 to find out how that affects the schedules of the Europa and Champions Leagues. You may need to get your Football Club flags early—but who's complaining?
When it comes to where we'll watch the match, fans in Qatar will be happy to know that all the stadiums will be relatively close to one another. It's estimated that there won't be much more than an hour's drive between them for fans who are curious. All—not just Khalifa—will have open-air cooling systems and the goal is for them to be finished by 2020. The largest, Lusail, will have up to 80,000 seats, so get in fast if you want a chance to get on TV with your world flag!
You'll expect to see the host's Qatar flag all over the place, naturally! Obviously we don't yet know exactly which teams will be present as qualifying has not yet begun but it's a safe bet that we'll see plenty of the holders' France flag, perennial powerhouses Brazil flags & Spain flags, 3 times-winners Germany flags and last but not least, (hopefully) the classic English flag!
Here at The Flag Shop, we're well aware that the Olympics is going to be halfway between now and 2022. After all, it's another chance to show off our national pride with world flags, world hand flags, and world flag bunting at a global event! But because we love football, we simply can't help looking forward to the Qatar World Cup—can you?!