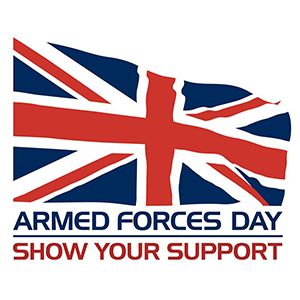 Dedication
The tenth annual Armed Forces Day will be celebrated at numerous events across the UK on Saturday June 30th but specifically in the historic Welsh town of Llandudno, which has been selected as this year's main host. Llandudno will become the focal point as we all gratefully acknowledge the hard work and dedication of both serving personnel and veterans.
The UK Armed Forces defend our nations and all of their interests. They fight an ongoing & constant battle helping to deliver aid, providing security, battling terrorism, giving aid and support whilst tackling drug issues to name just a few elements of their vital global role...They are genuine heroes, the type we as a society really need to recognise further in this modern-day age of celebrity-worship. But more about this later….
Armed Forces Day (and week) was specifically created to focus on & honour the work and dedication of our nation's courageous Servicemen and women. Across the country celebrations will begin on Monday 25th June when the Armed Forces Day flag is hoisted up on buildings and famous landmarks around the nation. The nation will also be decorated with various Armed Forces flags, hand flags and bunting by way of tribute, and quite rightly too...
Community, Celebrity & Commitment
Armed Forces Day is dedicated to honoring the work of the UK's brave service men and women, past and present. And that is so important... Nowadays it is sadly increasingly rare for communities to come together for anything, let alone to pay respects to people who actually deserve it. Our modern society is increasingly angled towards the insular, towards self-gratification and materialistic advancement. That sense of togetherness, that willingness to make selfless sacrifices in the name of something bigger than ourselves, has become somehow less 'fashionable.' TV and social media has (depressingly) made celebrities out of those whose only sacrifice appears to have been their own education in the name of a tan & a six-pack. One glance at current flavour of the month TV show 'Love Island' confirms this…
All of which makes the courage and commitment shown by our Armed Forces, including reservists and cadets etc, all the more impressive. Months if not years away from home, missing friends & family and countless special occasions. Not to mention the common dangerous situations they face, risking life and limb in the name of a greater sacrifice. Now that's impressive….Yet these men and Women do not enjoy any celebrity, or the trappings that come with it. All the more reason to honour them, and those who previously paid the ultimate price, for the service they provide, that we all benefit from.
Show It!
So we know how much we should appreciate our Armed Forces, but how best can we show it? Well, alongside charitable donations, one great way is to attend your local event this month and wave supportive Armed Forces Day flags and bunting! A good example is the Armed Forces Day Flag, a patriotic & commemorative flag that pays tribute and is supplied with two metal eyelets and grommets to enable easy and secure hanging. Maybe you'd prefer a 5ft x 3ft Armed Forces Day option, alongside an even bigger Armed Forces Day Flag to really stand out from the crowd! (You may need to be pretty tall though!).
If you're planning to attend a local event parade and want to show your support for the troops, the Armed Forces Day Hand Waving Flag is ideal. Measuring 45cm x 30cm, it's a handy and manageable size for holding & comfortably waving. Why not go the whole hog and support all individual part of the Armed Forces community with the Armed Forces Flag Pack? This contains a Royal Air Force, British Army, Royal White Ensign, Union Flag and Armed Forces Day flag to cover all the bases!
The Armed Forces Day Flag Bunting makes the perfect patriotic decoration, ideal for pubs and businesses wanting to create  their own Armed Forces Day tribute. It even suits house or garden walls! Well-made, robust yet colourful, it's a great colourful tribute. The flags and bunting really go a long way to making the events and parades colourful, lively and memorable. It's just a small way we can all pay tribute and show support. In this day and age, we should all be appreciative enough to take some time out and do so.
Armed Forces Day is genuinely a special occasion as it is the one day per year where people choose to come together and honour past and present troops. With the selection of Armed Forces flags, hand flags and bunting, you can pay your respects and proudly fly the flag for Great Britain. Why not set an example? It's good for the soul, if nothing else!  Don't miss that opportunity...