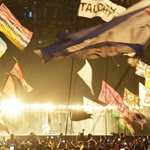 In the UK, music festivals have become an enormous business. The live music and festivals market has a value of more than £2bn, and this figure could rise to as much as £3.5bn by 2020. It's big business, and attending a festival, whether a flying visit or 'Glamping,' is becoming more and more staple of the British summer time for millions of us.
Yes, festivals are about being trendy, music, dancing and signing but a huge visual element of festival-attending involves taking your own festival flag! It's considered as vital as trendy wellies, waterproof clothing and paracetamol - Scores of wacky and humourous Festival Flags have now become one of the defining visuals of the modern British summer festival scene - But why are they so popular & iconic? Well it's hard to know for sure, but here's our top five Best Guesses :
They remind us that it's summer!
There are many signposts that spring has given way to summer...Those balmy fragrant evenings after seemingly-endless days, often staying light until 10pm….The World Cup and Wimbledon providing a non-stop source of sporting entertainment….Talk of droughts and rumours of hosepipe bans, your hay fever flaring up like mad, kids off school making eternal fun memories and last but not least, the music festivals begin! Everywhere you turn it's Glastonbury-this, Creamfields-that, not to mention Reading, Leeds, Parklife or one of the many other festivals that erupt into life every summer. Picture a festival now in your mind, and it's a high chance that you're seeing not the rock stars on stage but the giant sea of people watching them, waving their festival flags and generally loving life...Once the festivals finish, you just know that Autumn is around the corner, looming like a wet & falling leaf.
They're a great method of self-expression….
Nowadays there are more and more ways in which to express ourselves. Whereas the younger generation of the 1960s & '70s were basically limited to rebelling or expressing their individuality through longer/skinhead haircuts and/or baggy/ludicrous outfits, the modern generation have a whole realm of vehicles in which to state their cases for uniqueness. Social media forms the bulk of these, but the sheer trendiness of festivals mean that attendees need a way to catch the eye and show what they're all about. Hunters wellies, hot pants, vests, face paint and hats are all well and good but nothing quite matches up like a quirky Statement Flag!
Which militant festival-goer, irrespective of generation, would not be proud to wave a Che Guevara flag, that classic iconic rebel pose from a million student walls through the decades? And what else tickles the nostalgia-bone and allows the socially-conscious flag-flyer a better chance to express his or her morals than the classic Peace 'Ban The Bomb' Flag?
For less socially-conscious tastes, maybe the classic beer flag ticks all the boxes? Let's be honest, it is a festival after all, so there's likely to be one or two knocking about… These 5ft x 3ft beer flags come with eyelets included, allowing it to fly easily & proudly from a flagpole to entice that cameraman!
They're genuinely amusing….
Satirical flags, student humour flags, plain old daft and wacky gag flags, they all have their place…..The nature of festivals are giddy, quirky, intense and fun. So why not fly that Elvis Confederate flag high? Or use a sweaty summer festival to display your undying appreciation of that iconic summer figure, Santa Claus?
Another wacky festival flag staple is the good old Smiley face flag. Born out of the Acid movement of the late 1980s, this enduring giant yellow smiley face flag is an instantly-recognisable classic and totally suits festival crowds!
We've all seen some of the other funny crowd flags in the past...Messages to Mum, or employers, or wives & girlfriends etc...They're different & unique, so why not?
They get you noticed…….
Festival-goers have long-since clocked on to this - The more unique/large/noticeable/controversial the festival flag, the more likely you are to a) Be able to identify yourself if you watch a concert recording back and b) Make an impact & be spotted by TV cameras! All the arm-waving, dancing and gesturing in the world does not catch the eye (or camera) like a tall, vibrant and engaging festival flag!
After all, who's not going to take notice of a Pirate bandana flag?  
From a practical point of view, your festival flag is also a brilliant identifier, which for friends battling their way back from the portalooos through dense crowds of people is absolutely invaluable!
They're a great memento…
Far into the future when you're regaling your children and grandchildren with tales of your attendance at the legendary 'Glastonbury 2019,' do you really think you're hastily-recorded, fuzzy mobile phone clips will still be to hand? Of course not!  What will be are actual physical mementos, like your treasured festival flag! (Hopefully not your foul wellies)
Imagine now how amazed you'd be if your super-cool (fictional) Uncle unveiled his original Woodstock flag from 1970? Well, don't neglect to make & take your own festival flag and you too can one day be in that privileged show-off position!
Whatever the reasons behind it, one thing is for sure - Festival flags are more creative and popular than ever, so why not throw off the shackles and grab yours for the next festival? Let's face it, you don't want to go unnoticed!