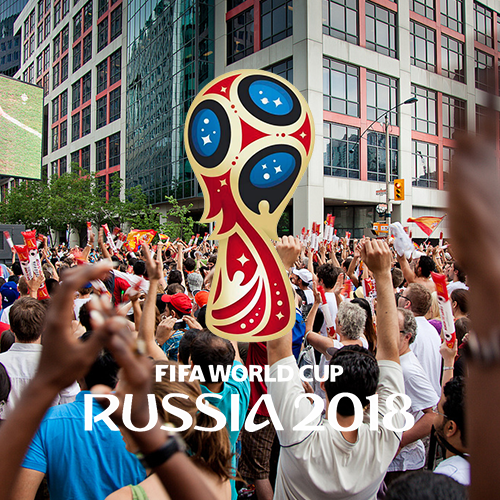 Well it's here again! The 21st FIFA World Cup 2018 is just around the corner and the fever is building...Who doesn't love The World Cup? Thursday 14th June sees hosts Russia kick off the tournament against relative minnows Saudi Arabia, with the nation's fingers being collectively crossed for England's first game against Tunisia on Monday June 18th! Holders Germany begin their title defence a day earlier on the 17th. The tournament runs for a full month until the winning nation is crowned on Sunday 15 July! But what is about the World Cup that makes the country, if not the whole world, go just a little bit crazy for nearly a month? Here are some of our theories…
Shared experience
Not to get too deep about it, but in general, modern society is pretty driven towards the 'self.' If you think about it, we all tend to live quite insular lives. Yes, we have friends and family but basically, we live in our own heads most of our waking hours. Our choices tend to be singular ones, based on our own individual tastes. Look at the marketing from some corporate giants that we are perennially being bombarded with: McDonald's' slogan "I'm Lovin' It" is all about appealing to YOU, the singular person. It's not "They're Lovin' It'....Equally, Red Bull gives YOU wings, not the whole school class.. L'Oreal insists that it's YOU individually that's 'worth it,' not your whole gang. You catch the drift….
Football and sport, in general, has always offered the sense of the shared objective, not just the solo pursuit of pleasure. Large groups of like-minded people support a group of like-minded (presumably) players within a team by waving team flags and wearing the same shirts. Tribal urges are summoned up from the most primal of places within people - One look at baying, snorting fans setting off flares as they scream themselves hoarse is all the proof you need. When Britain's towns become World Cup-obsessed, all you can see are vehicles with attached car flags & walls adorned with bunting, and a lot of it is to do with this need for a common goal, a shared experience. Win, lose or draw, we undergo it all together. It's a brief window of community in a time where this has become more and more rare.

Cheerful Distraction
Well, we don't get much good weather. Half the year it goes dark before 5pm and many argue that events like the World Cup brighten things up dramatically. Millions around the country see the World Cup as a chance to escape from the mundane trials of life, plus all the endless discussion about Brexit/Trump/Russia etc. What better way to do this than via a carnival of football, colour and flags?
Everyone likes bunting as a colourful decoration, (it's almost a national obsession - think Jubilee days & Royal Weddings) so many will be dressing their outdoor walls with lovely World Cup bunting. Pub, restaurant and cafe owners love to use these both indoors and outdoors to attract customers in and for the rest of us, it serves to brighten up our streets and proudly state our patriotism! This bunting is quality too, featuring either 10 or 30 national flags on a three or nine-metre length of strong polyester tape.
Also the World Cup is simply a fantastic excuse to have a good old knees-up outdoors in the company of friends. Let's be honest...
Tradition, Blind Loyalty & Patriotism...
Would it be too old-fashioned to suggest that some love the World Cup because it's a chance to display uncomplicated and proud patriotism? Surely there is some of this still left? From the beer-swigging, 'In-Ger-Land'-screaming brigade to the once-every-four-years casual fan, everyone enjoys getting behind the team.
If you pop in any English pub during the World cup you'll see numerous St.George's Cross Flags, decorative World cup bunting and such like... It adds great colour, it can't be denied! Granted, the World Cup usually ends in misery for the underperforming England team, but that in itself has become a tradition and just part of things. Plus there's always the faction of blindly optimistic footy fans, convinced that 'this time it'll happen!!' and they finally get to do what no Englishman has done since that balmy July day in 1966 and watch England actually be crowned as World Champions. Not too many of these optimists left, nowadays, mind…
Commerce & Must-Have Items...
Good old money….Well let's be honest, the World Cup is a real money-spinner for many business-people and there's nothing wrong with that. For the pub industry, it is simply enormous. With so many countries competing in the World cup this time round, there is no better way for landlords to decorate the nation's pubs than with a country flag from every participating team. After all, making any patrons from all nations feel represented can only help beer sales, right? Perfect for this is a 32 Flag Pack of World Cup Flags, ensuring every team playing in Russia this summer is represented. Each flag measures five feet by three feet and there are two eyelets for hanging up on a flagpole. More common still will be the smaller 3ft x 2ft versions, which will be everywhere by summer!
For the indecisive landlord who wants to hedge his bets, the World Cup Bunting is a clever option as it that represents everyone! Incorporating 32 world flags on it in a rectangular shape, it does need a decent-sized wall to accommodate its 9.9 metres length!. In addition, there is also the Giant World Cup Bunting that stretches for 17.8 metres and with each flag measures a huge 45cm x 30cm. No self-respecting pub will surely be without such essentials come July...
There's more than just wall flags and bunting too….Anther must-have item for the World Cup are nationality Table Flags. Kids adore these for school and they are equally effective for the kid in all of us, i.e adults having them at our desks or workstations! And why not? Part of the World Cup's magic is getting everyone into the spirit, when maybe they wouldn't usually...
It's only a matter of weeks till you spot your multi-nationality work colleagues proudy sporting their France table flag or Germany table flag! You may as well beat them to it...
World cup hand flags are likely to be everywhere also, as they are a simple but effective tool to show your support, plus they are a fantastic corporate giveaway! If you're an employer, why not give your customers an amazing England Hand Waving Flag with every order? Spread that patriotism! This features the famous Saint George's Cross, which measures 18 x 12 inches and comes complete with a sturdy wooden stick that measures 24 inches.
Last but far from least will be the ubiquitous car flags, which are part of the traditional of World Cup fever in this country now. A cleverly-designed accessory for any car, they ensure that drivers can pledge their national allegiance during the World Cup! Measuring 16 inch by 10 inch, they are printed onto quality polyester using clear colours and designs. Each is attached to a sturdy plastic stick with a clip to hang from a car window securely. Drive and Support at the same time! The England 4 Lions Car Flag will be draped from many a car this summer, that is for sure...
So whether you are a football nut or not, you may as well submit now as there will be no escape! You never know, England may end up doing rather well and then things really will get interesting as the fever pitch rises! The Flag Shop is the only place you'll need to celebrate all things World Cup.