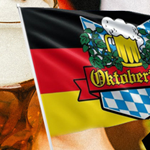 Oktoberfest 2018 kicks off in just a few weeks and this year the rest of the world will be celebrating in greater numbers than ever before..But what exactly is it all about & why all the fuss?
The world's largest Volksfest—German for "people's festival"—lasts for 16-18 days from the 22nd of September and combines hearty Bavarian beer with all the excitement and bright lights of a travelling funfair. The tradition's roots date back to 1810 when Bavarian Crown Prince Ludwig wed Princess Therese of Saxe-Hildburghausen in Munich and invited the whole town to join in the festivities. Since then, the Oktoberfest phenomenon has grown rapidly each year and beer tents bedecked with iconic Bavarian flags are now in place to celebrate in countries as diverse as Japan, South Africa, New Zealand and Argentina. So, what's behind the unstoppable march of Oktoberfest?
It's an excuse to celebrate!
In the UK, Oktoberfest provides Britons with a welcome chance to break away from traditional nights out and celebrate in a quirky, unique way. Everything about the lively, bustling, Oompa music-drenched Volksfest is undeniably different from the local pub! Unsurprisingly, Britons have firmly embraced the excuse to revel in the bright, exciting fairground rides, wave Oktoberfest flags with rosy-cheeked barmaids, and match or beat their German counterparts in drinking up to 6 million litres of beer.
Singing, dancing, and general good cheer is always in evidence at Oktoberfest, which now takes place at dozens of large events across England, Wales, Scotland and Ireland this year. Tens of thousands of people gather at organised festivals and households adorned with white and blue Bavarian bunting and Bavarian flags to lift the spirit. Long tables typically deck these venues, where cries of "Prost!" ("Cheers!") and traditional beer steins clink from the afternoon to late, merry evenings.
Food, food, and more delectable food...
Expanding on the theme of excuses, there's no better time or place than Oktoberfest for us Britons to indulge in the renowned German würstl (sausage), which goes fantastically with traditional Bavarian beer.  However the folk festival entails a whole lot more in the way of culinary variety than just brezen (pretzels) and sausage….Rather, Oktoberfest is a great chance for families and festival-goers alike to get creative and order something a little different from the regular meat and two veg. Wooden food stalls lined with Germany bunting knock together generous servings of Bavarian delicacies like schweinshaxe (roasted, brined pork knuckle), hendl (roast chicken), fischbrötchen (fish sandwiches), and of course, sauerkraut to fill hungry tummies. It's these tantalising smoky aromas of cooking meat, while designed to line the stomach for copious quantities of beer, that are very much a huge part of Oktoberfest's whole appeal.
Those hosting an event at home to avoid crowds may not have enormous roasting spits and grills to work with but will be free to enjoy Oktoberfest without the queues. Local pubs and parties are fast becoming a staple of German beer-fest celebrations outside the country, being a lower-key but equally enjoyable way to sip cold beer in the company of friends. With the theme already chosen, Bavaria bunting and cheerful beer bunting are an increasingly common sight along UK streets and pubs during the uplifting festivities. And why not?
Wacky costumes galore!
A huge part of the Volkfest appeal lies in getting zany and light-hearted in the quintessential Bavarian costumes. Perhaps being able to have a laugh in trachten (traditional Bavarian outfits) is a little akin to taking a holiday without the hassle and expense. After all, we're seldom given the chance to deck ourselves out in embossed, snug-fitting dirndl , a flexible Alpine-style hat, or the ubiquitous embroidered lederhosen. All this for the purposes of drinking beer and having a good time, no less! Together it's all an excellent recipe for relaxation—albeit a somewhat rowdy form of relaxation.
There are plenty of chances to play dress-up for those not able to get their hands on a pair of deerskin lederhosen suspenders in time. A German flag or fun Beer Flag is a common way party-goers get into the spirit in the UK and an increasingly common way to festoon Oktoberfest celebrations at home or the local pub. Here, too, Germany bunting and kegs decorated with Bavarian table flags are growing in popularity, being often seen outside to attract festival-going beer-drinkers to the October celebrations.
We love to share and remember...
Apart from kitting up in vivacious German outfits to eat, drink, and be merry, most Oktoberfest exploits are ideal for sharing with friends and family. After all, social media keeps Britons fundamentally connected, and Oktoberfest outfits are a picture-perfect way to share the jollity with everyone we know. Let's face it—in such a heavily social media-oriented society, Oktoberfest is almost designed for photo-sharing! This side of the North Sea, Oktoberfest is often very much just a chance for people let loose and appreciate good old food & beer. Those headed to events will want to keep track of each other in venues packed with upwards of 50,000 UK party-goers with a cheeky Beer Flag that will stand out a mile across the tents and crowds. In terms of remembering the event, it's worth noting that while the signature beer steins are a popular ideal keepsake (upwards of 200,000 were recovered from ambitious festival-goers one year!), they aren't allowed to be taken home. Instead, why not design a custom Bavaria flag for the event, which will last for years to come?
Whether you're in it for the food, the photos, or just for the plain old beer, the growing popularity of Oktoberfest lies solidly in the fact that there's something for everyone. Hundreds of thousands of Britons across the UK will be celebrating this year, either in beer halls decked with Bavarian bunting and eye-catching Oktoberfest flags or from home with Germany table flag -strewn kegs. So, whatever your favourite thing is about Oktoberfest, The Flag Shop has everything you need to set the stage for a folk- and beer-filled party season. Prost!