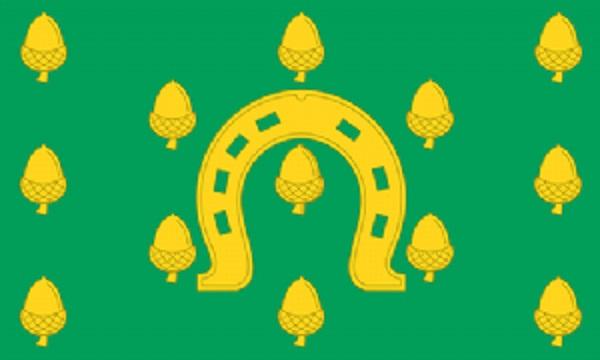 NEW RUTLAND COUNTY FLAG - Show your support and fly the flag!
A new flag for Rutland County  was registered with the Flag Institute on 17th November 2015.
The golden horseshoe on a green background has traditionally been the emblem of Rutland county since at least 1784. The horseshoe refers to a tradition where dignitaries travelling through the county are compelled to deliver a horseshoe to Castle Hall in the county town of Oakham. The semy of acorns that was included as part of the 1950 College of Arms grant to the county council is a reference to Rutland's small area.
On 9th November 2015 the county council agreed to waive the copyright of this design and allow for it to be a freely flyable and publicly useable flag.
Visit www.theflagshop.co.uk for online sales OR call 01246 297600 to place an order.