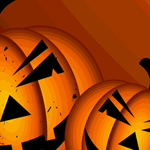 With Halloween just around the corner, it's hard not to get excited! But how much do you really know about the roots of Halloween? And why on earth are we all so keen to get dressed up as spookily as possible? We at The Flag Shop are huge fans of Halloween (or 'All Hallows Eve' to give it its proper name) and for us, it's always an ideal occasion to take as many hilarious photos as we can to share with our friends. The festival has a rich history and is being celebrated all over the world in greater numbers than ever, so we've taken a moment to think about what it really means…. And of course, how best we can celebrate it!
Origins of Halloween
Halloween celebrations can be traced all the way back to the mid 18th Century. Originally termed 'Hallowed Evening' or 'Holy Evening', it can be a little bit baffling why we choose to dress up as everything that bumps in the night! With its influences from Gaelic, Welsh, and Christian roots, it's little wonder there's a huge range of different ways to celebrate Halloween all over the world.
Within the UK, one particular origin of Halloween is from Celtic harvest festivals with pagan ties. During these, the harvest season's end marked the start of the colder, darker winter months. British homes would leave crops, foods and drinks outside for faeries and spirits who could enter our realm as the boundary with the next world got thinner. Stories would be told and people would try to guess what was coming for them in the future. In Ireland, people would pray for the souls of those passed...before tucking into a hearty supper and a fun party! So, it's not all doom and gloom. And at least we know why we see Halloween Party Pumpkin Flags everywhere in place of food offerings!
What's our fascination?
It's a question that haunts, isn't it? What really is behind our fascination with everything creepy and scary? It's actually a question that applies much more broadly, to everything from funfair ghost trains to thriller movies and practical jokes. Some scientists think it's down to our instinctive reactions to things that are unexpected. As prepared as you might think you are for Halloween, it's always a little surprising to see a skeleton walking around the corner! In addition it's because gore grabs our attention. As a species, we've evolved so that we instinctively pay attention to things we find different, and shall we say, that little bit thrilling. It's why the horror movie industry thrives year after year. (Not because all violent movies are cinematic masterpieces!) There's just something inherently attractive to humans about experiencing a 'safe' scare. Yes it may make you jump or feel a little creeped-out, but deep down you know you're not in any real danger.
Another theory is that we all have a deep-down desire to see good triumph over evil. Just like storybooks that feature helpless damsels at the mercy of a terrifying dragon, we're all hoping that a knight in shining armour will come along to save the day. It's this desire that scientists believe keep us ever-primed for the next detective novel or searching for the scariest zombie costume out there!
Spookier than ever!
So, Halloween has become more popular than ever and is celebrated around the world by huge numbers of people. In Mexico, it's recognised as the 'Day of the Dead,' which is often noted elsewhere across the globe with Day Of The Dead flags. Across the pond, 'trick-o-treating' is a huge hit in the United States—and now we know the symbolism behind those ever-popular 'Candy Corn' sweets that are shaped like seeds! In the Czech Republic, a chair is pulled around the fire for each family member, whether living or passed.
Halloween is now a globally-marked event, and with Britain becoming ever more multicultural, this can be seen in a welcome increase in different Halloween customs. Ubiquitous witch flags hark back to the witches that Christians believed travelled with souls across the world. Skull flags speak directly of the fortune-telling practices that abounded in 18th century Britain. And Happy Halloween Flags bring to mind delicious treats, just in case us that we, as people, love to celebrate with a little something sweet, no matter what the occasion!
What are your Halloween plans
With Halloween's ever-growing popularity, themed parties and group trick-o-treats are not opportunities to be missed! Turning your home into the haunted house of the century is one of the most fun ways to get into the holiday spirit, and can make it the perfect setting for children's parties. At The Flag Shop, we're just as excited as you about decorating our office and have a large range of Halloween Flags and Halloween Pumpkin Bunting that are perfect for your Halloween event. If you're having a get-together, why not turn your home or business into Dracula's castle with our Halloween Vampire Flag?  
We're ready at The Flag Shop, and we hope you are too. Just be generous with the sweets, and you won't get tricked!