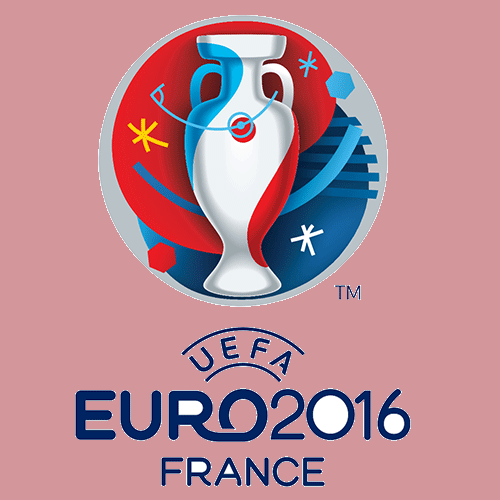 The UK is preparing to go football-crazy again as this Summer's Euro 2016 tournament rolls around…
In exactly 100 days' time the 15th UEFA European Championship kicks off in Paris, with host nation France playing Romania.
A month-long festival of football then unfolds, as Europe's 24 greatest teams do battle to try and determine who will succeed Spain as the new Champions of the continent.
There is extensive home nation interest, with England, Northern Ireland and Wales - as well as the Republic of Ireland - all qualified to attend. However this year there are many favourites for the tournament including hosts France, Germany, Spain, Belgium and believe it or not, England.
With tens of thousands of fans making the journey, in particular Ireland, England, Northern Ireland and Wales will be sure to take thousands of footy-mad followers to France's stadiums – and they'll be sure to make themselves heard!
But let's not forget those supporting back home! It's been a modern phenomenon every time a tournament comes around for us to all slightly lose our minds for a few weeks. (Or however long it takes for England to crash out)…Whether it's draping our homes in our Nation's colours, attaching a mini flag to our cars or just popping down to drink under the patriotic bunting of our local boozers, we all seem to get bitten by the bug.
And why not? The economy certainly loves it, as the masses rush to empty supermarket shelves of all their barbecue fare, lagers and possibly paracetamol. It's as if a surge of energy, patriotism & positivity runs through society, at least for the glorious few weeks that the Home Nations linger on in the tournament. Alas, like all great parties, there's isn't half a nasty hangover though. Recriminations over the team's latest failure begin, what was previously optimistic chatter starts to morph into bitter, 'told-you-we-were-awful' grumblings.
But then maybe this is part of the intoxication? If it lasted forever, would it seem so glorious when fever grips us all for those few vibrant summer months? Of course it wouldn't. So we do it all again. And most of us wouldn't have it any other way.
Plus there's always next time…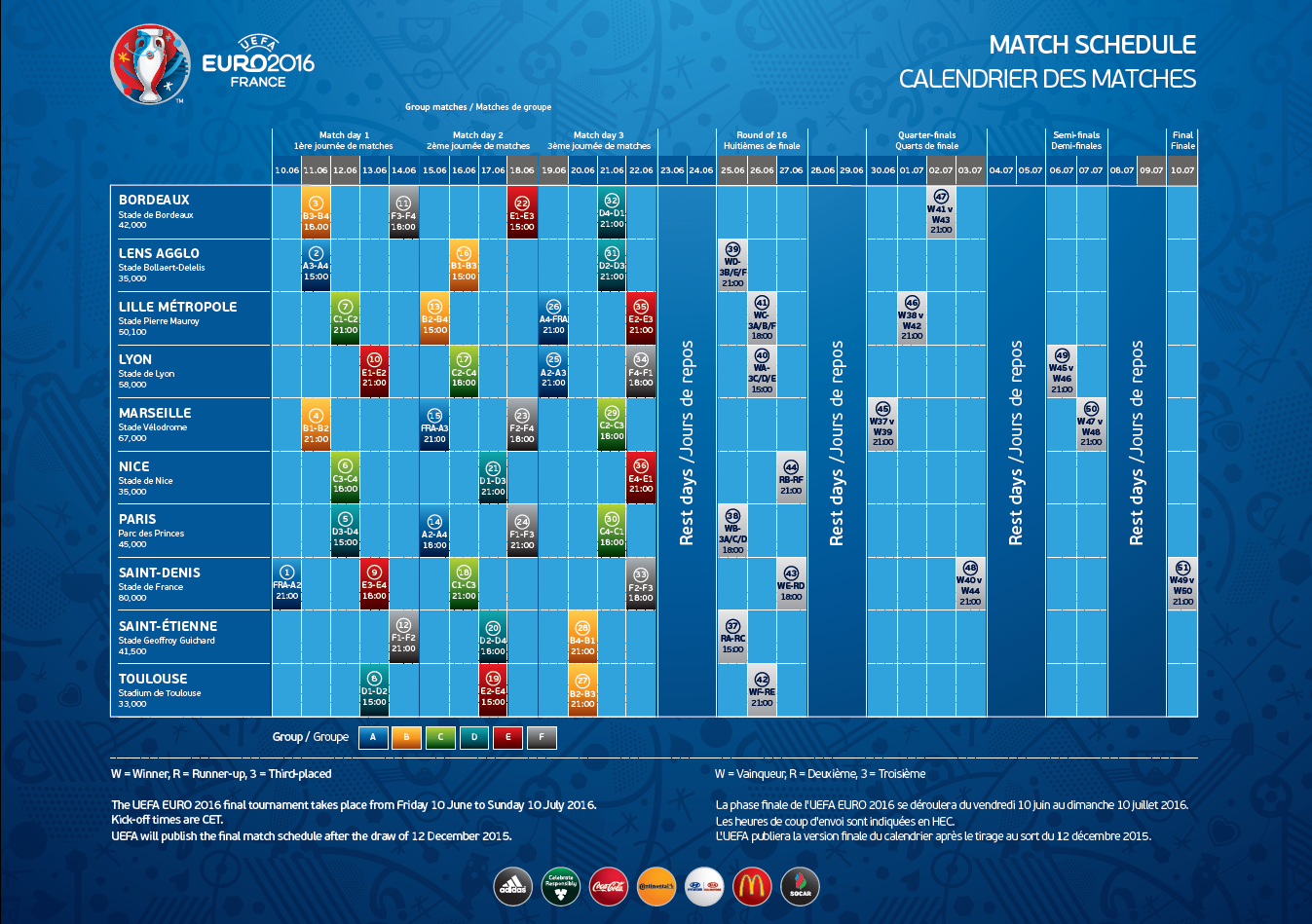 Qualified teams
Thirteen of the sixteen teams (including hosts France) that qualified for Euro 2012 have qualified again for the 2016 tournament. Among them were England, who became only the sixth team ever to record an unblemished qualifying campaign (10 wins in 10 matches), defending European champions Spain, and world champions Germany, who qualified for their 12th consecutive European Championship finals.
To enable the expansion from a 16 team finals tournament to 24 teams, the format will be altered from that used in 2012 with the addition of two additional groups in the group stage, plus an extra round in the knockout stages. The format is identical to the one which was used at the 1986, 1990 and 1994 FIFA World Cups, the only exception being the absence of a third-place play-off at this year's Euros.
This format requires a total of 51 games, as opposed to 31 games for the previous 16-team set-up, to be played over a spell of 31 days.

Stadiums to be used
Stade Velodrome, Marseilles (67,000)

Stade de Nice, Nice (35,000)

Parc des Princes, Paris (45,000)

Stade de France, Saint-Denis (80,000)

Stade Geoffroy Guichard, Saint-Etienne (41,500)

Stadium de Toulouse, Toulouse (33,000)

Stade de Bordeaux, Bordeaux (42,000 capacity)

Stade Bollaert Delelis, Lens Agglo (35,000)

Stade Pierre Mauroy, Lille Metropole (50,100)

Stade de Lyon, Lyon (58,000)
TV Coverage
The BBC & ITV are to share the 11 group matches involving England, Wales, Northern Ireland and the Republic of Ireland.

The BBC will broadcast the hugely anticipated home nations clash between England and Wales on June 16 whilst ITV will broadcast England's first and last group games against Russia & Slovakia.

Wales' first match against Slovakia at a major football tournament since 1958 will be on the BBC, alongside Northern Ireland's opener against Poland and vital final group game against reigning world champions Germany.

The opening match of the tournament between the hosts France and Romania on 10 June will be shown on ITV, as well as Northern Ireland v Ukraine, Russia v Wales and the Republic of Ireland's matches against Italy & Belgium.

ITV will have first dibs of the round of 16 while the BBC will have the initial two picks of the quarter- finals. ITV then have the choice of the semi-finals. Both channels will be broadcasting the final.